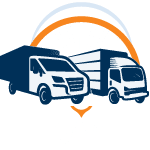 One PLATFORM
Fleetistics ONE is an affordable fleet management software solution that can help you improve fleet visibility, reduce costs, improve safety, enhance compliance, and increase productivity. Contact us today to learn more!
Download Brochure
Watch Video
One: The Affordable Fleet Management Software Solution
Fleetistics ONE is perfect for businesses looking for an affordable fleet management software solution that does not sacrifice features. With its extensive list of features and benefits, Fleetistics ONE can help you level up and stay on top of your fleet of vehicles.
With Fleetistics One, features include: 
GPS tracking
A feature allowing businesses to track their vehicles and assets in real time. This provides valuable insights into location, speed, and other metrics. Businesses can use this information to improve their efficiency, safety, and profitability.
Weather radar & future-cast
This feature provides businesses with the information they need to keep their employees and assets safe during severe weather events. This feature can help businesses avoid costly disruptions and damages.
Mobile app with SOS, image sharing, and chat
This allows businesses to communicate with their employees in real time. Helping businesses improve their customer satisfaction and service, as well as resolve issues quickly.
Highly configurable alerts
Notifies businesses of important events, such as when a vehicle enters or leaves a geofence or when a driver is speeding. This can help businesses avoid costly accidents and violations.
Route route optimization and replay
Allowing businesses to plan the most efficient routes for their vehicles and track their progress over time. This can help businesses improve fuel efficiency and reduce their environmental impact.
Custom map icons
The custom map icons feature allows businesses to create their own map icons to represent their vehicles and assets. Helping businesses easily identify their vehicles and assets on a map.
Asset tracking
Allowing businesses to track their non-vehicle assets, such as trailers, generators, and equipment. This can help businesses reduce theft and improve their asset utilization.
Driver scorecard
Providing businesses with insights into their drivers' performance, such as driving habits, fuel usage, and safety violations. Drivers can use this information to improve their training and reduce accidents.
Electronic driver logs
Compliance management helping businesses comply with electronic logging device (ELD) mandates. ELDs are required for commercial vehicles that operate in the United States.
Fuel integration
A fuel management system to track fuel consumption and identify areas where they can save money. This can help businesses reduce their operating costs and improve their profitability.
Dashcams
Protect vehicles and drivers by recording video footage of events that occur on the road. Businesses can use this footage to resolve disputes and protect themselves from liability.
If you need to track vehicles, equipment, and assets but do not want to pay the same monthly service rate as some GPS tracking systems, the Fleetistics ONE platform is the right fit.
Tracking
Vehicle tracking with real time data so you always know where your vehicles and drivers are.
Driver Training
Monitor driving behavior to identify areas for improvement.
Fuel Efficiency
Improve fuel management by optimizing for efficient routes and reducing idling time.
Maintenance
Reduce maintenance costs by identifying potential problems early and schedule preventative maintenance.
Regulations
Enhance compliance with government regulations and industry standards
Driver Safety
Improve safety by reducing accidents and incidents.
Contact us today to learn more about Fleetistics ONE and how it can benefit your business.
Book Online Demo